Seongnam City, South Korea (Est. 1992)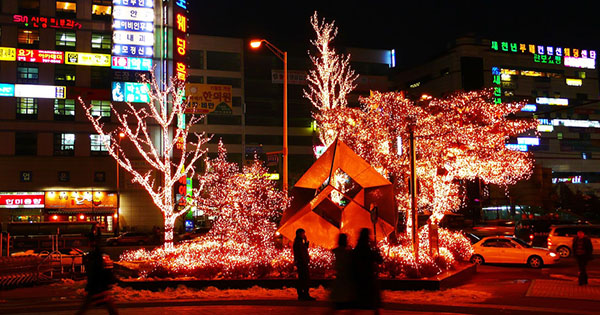 Located in Gyeonggi Province near the Han River, a mere 26km from the South Korean capital of Seoul, Seongnam City is a bright, vibrant metropolis. Aurora's sister city since 1992, and with a population of nearly a million people, Seongnam City is defined by its strong economy, active arts scene, and an engaged focus on international relations (with exchanges established between six cities in six countries).
Visitors to Seongnam City enjoy excellent cultural resources, such as the Pangyo Museum, Seongnam Children's Library, Land and Housing Museum, Seongnam Arts Center and the Folk Craft Exhibition Hall. Additionally, the city offers easy access to the area's dramatic historical landmarks. Such sites include the famous Namhansanseong Fortress (a UNESCO World Heritage Site), Daegwangmyeongjeon Bongguksa Temple, and the Bundang Daegwangsa Temple.
Potential investors to the Seongnam City region will find a city ready for development, with existing high-tech industry complexes like Pangyo Techno Valley, Yatap Valley and Uirye Medi-Bio Valley helping to facilitate business growth. Significant investments have also been made to beautify the city, which have paid off with the development of an extensive system of urban parks and green spaces. This includes the famed Yuldong Park, where visitors and tourists can enjoy a diverse array of activities, from bungee jumping to book readings.
Regardless of one's reasons for traveling to Seongnam City, the experience will be enhanced through the city's lively schedule of cultural events. These include the popular Seongnam Culture & Arts Festival, and the Seongnam Folk Handicraft Festival, which both further improve the quality of life found in Seongnam City.
Aurora is proud to call itself a sister to such a vibrant and growing city, and looks forward to future collaborations.