Global Youth Leaders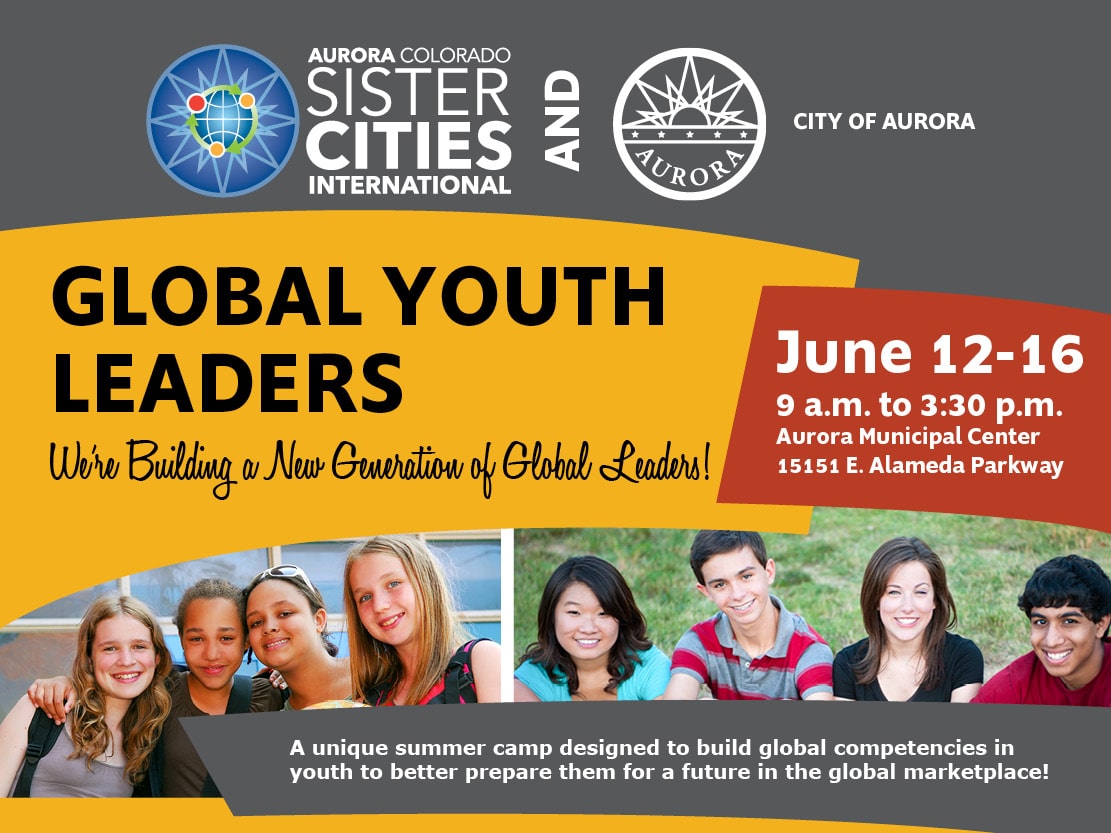 Apply here: GYL Application 2017  More info: Global Youth Leaders
Through our newly launched Global Youth Leaders camp, we hope to engage Aurora youth aged 13-15 in an interactive week long leadership curriculum designed to give them the skills and competencies to act as global leaders, entrepreneurs, ambassadors, and pursue higher education opportunities.
Our program will use interactive activities to teach students a set of global competencies including Character, Citizenship, Communication, Creativity, and Culture. The program will take place for one full week during the public school summer break. Students who complete this program will also have the opportunity to apply for a scholarship to attend the nationally-renowned Sister Cities International Youth Leadership Summit (in Virginia Beach from July 12-16, 2017).
One outstanding student participant per year will also be offered the opportunity to continue developing his or her skills by becoming an "Aurora Global Youth Ambassador." This position would come with opportunities to visit Aurora's sister cities in Adama, Ethiopia, Jaco, Costa Rica, and Seongnam City, South Korea.
Aurora Public Schools students will earn badges for the Aurora Public School's Postsecondary Workforce Readiness Program.
Who can apply? Students in Aurora aged 13 to 15
How do I apply? Fill out the application and return a signed copy to Aurora Sister Cities International. Be sure to include proof of vaccination and a copy of student identification.
Required documents: proof of vaccination, copy of student identification (school ID, Colorado ID card, passport),
Send signed applications and required documents to:
Email: Loren Evans, levans@auroragov.org
Mail: attention Aurora Sister Cities International 15151 E. Alameda Parkway, Aurora Co, 80012
Campers and parents/guardians will be required to fill out and return a full application prior to admission in the camp.
Transportation and special accommodations available, please contact Loren Evans at 303.739.7767 or
levans@auroragov.org
Apply here: GYL Application 2017  More info: Global Youth Leaders
ASCI would like to thank the following sponsors for supporting Global Youth Leaders
Aurora History Museum
Aurora Welcome Center
Dae Gee
Jimmy Johns